About the Artist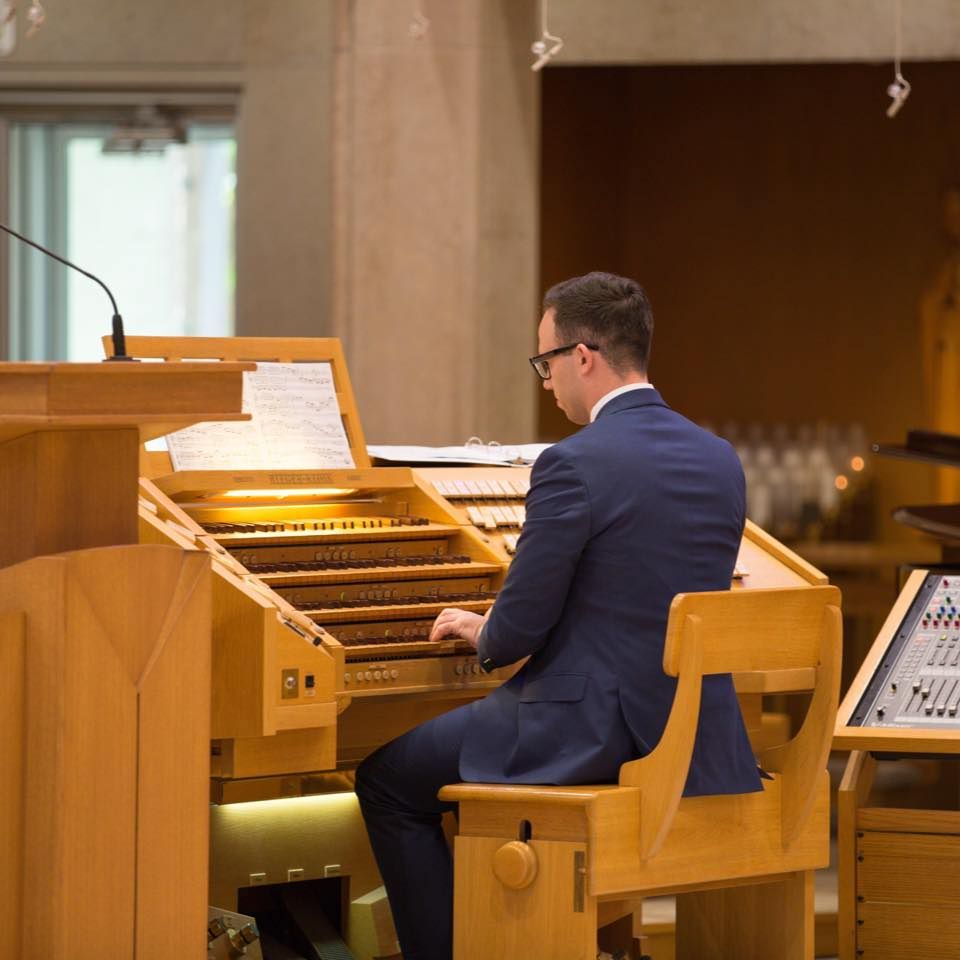 Andrew Kreigh, a native of Madison, Wisconsin, currently serves as the Director of Music and Liturgy at Saint Bernard Catholic Church in Madison.  Recently, Andrew completed his master's degree in organ performance at the University of Iowa under the instruction of Dr. Gregory Hand. He holds a Bachelor of Music in Music Business from the University of Wisconsin Oshkosh where he also studied piano performance with Dr. Eli Kalman.
Prior to his time in Iowa Andrew had the opportunity to serve as apprentice to several cathedral music directors throughout the United States. Andrew served as assistant organist with dr. Ezequiel Menendez at the Cathedral of Saint Joseph in Hartford, Connecticut. It was here where he first began serious organ study while playing weekly services at the cathedral. After nearly two years Andrew returned back to his hometown of Madison, Wisconsin. During this time, he was an active organist for the Diocese of Madison and cathedral parish in Madison as well as the Cathedral of Saint John the Evangelist in Milwaukee. This included playing Diaconate and Priestly Ordinations, as well as, Christmas and Easter Masses at the Cathedral. 

Andrew maintains an active concert schedule throughout the United States including appearances at All Saints Cathedral in Albany, New York, the Cathedral of Saint Joseph in Hartford, Connecticut, the Co-Cathedral of the Sacred Heart in Houston, Texas, and the Cathedral of Saint John the Evangelist in Milwaukee, Wisconsin. Andrew has also performed with the Cathedral Choir of Saint John the Evangelist (Milwaukee, Wi) on tour in Austria and Germany. Upcoming performances for the summer of 2020 include The Basilica of Saint Mary in Minneapolis, Minnesota, The Sinsinawa Mound,  Olivet University in Illinois, and Holy Name Chapel in Madison, Wisconsin. In addition to his work in sacred music and performing schedule Andrew has overseen multiple organ projects and installations including the renovation of the organ at his home parish Immaculate Heart of Mary Parish in Monona, Wisconsin, the re-voicing, restoration, and installation of a 35-rank Wicks organ at Saint Matthew Catholic Church in Cedar Rapids, Iowa, and is currently overseeing the ongoing project of installing two E.M. Skinner organs in Saint Bernard Catholic Church.